E-Foil Electric Surfboard Lessons
Join us for an unforgettable adventure on an electric surfboard in the stunning waters of Door County.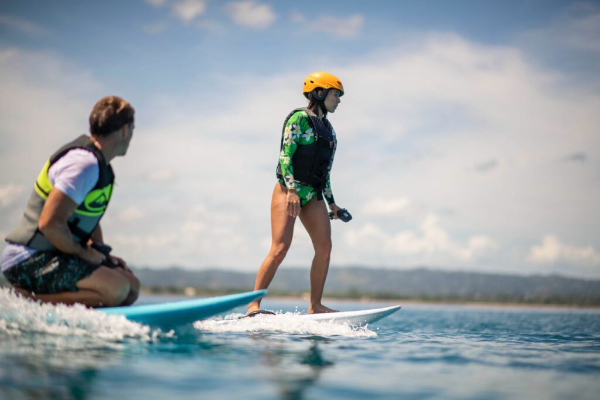 Glide effortlessly over water with our top-of-the-line Lift e-foil boards and expert instructors that will guide you every step of the way. E-Foil lessons offer an exhilarating and accessible opportunity; whether you are a beginner eager to dive into the world of water sports or an experienced water sports enthusiast, our lessons cater to all abilities. Instructors are knowledgeable and friendly to ensure you have a safe and enjoyable experience.
The lesson timespan is two hours, including instruction, board safety, and an hour and a half on the water, learning how to ride the world's smallest personal watercraft. Our lessons are priced at $250 per person. Full payment is due at the time of booking all reservations. Payment may be made by credit card for phone or internet reservations. Cash payment is accepted when reservations are made in person at the Lakeshore Adventures main office.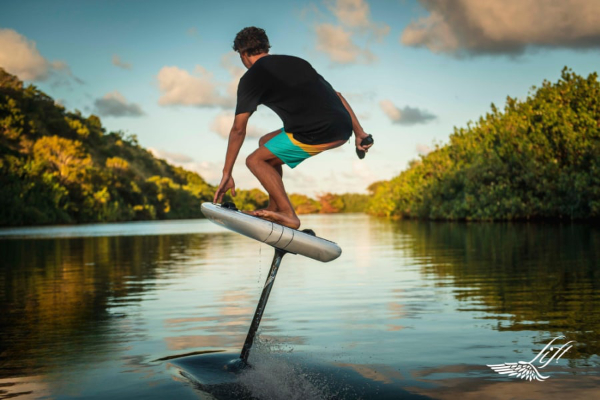 Bring bottled water, sunscreen, a towel, and water shoes/sandals, and quick-drying clothing (polyester, spandex, swimwear). We provide life vests. All tours meet at the Lakeshore Adventures office (8113 Hwy 57 in Baileys Harbor) 15 minutes before your scheduled time. Lessons occur in Kangaroo Lake, Baileys Harbor, or Green Bay, depending on weather conditions and preferences.
We offer discounts on sales of Lift E-Foil electric hydrofoil surfboards with the purchase of a demonstration; contact us at by phone at: (920) 839 2055 or by email at: info@lakeshore-adventures.com.
Book now by clicking here.
Watch a mini documentary on eFoil surfboards here.